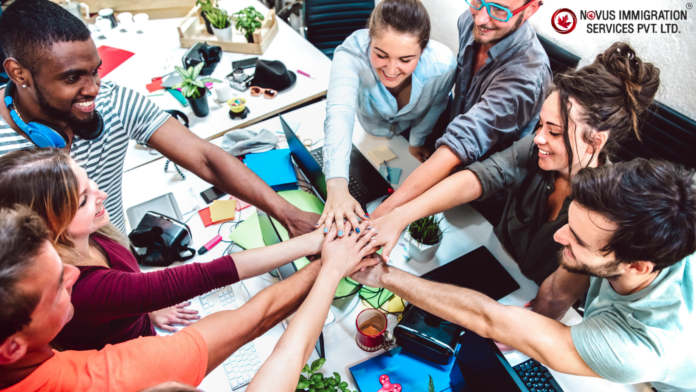 The predominant factor behind Canada being one of the leading destinations among international students.
Studying in Canada offers the significant benefit of being able to work consequently, making it one of the most lucrative reasons for choosing Canada over other locations like The United States Of America, The United Kingdom and Australia. A study conducted by IDP Education, Emerging Futures, at the beginning of 2023 is a statistical reflection of the primary grounds based on which foreign students make decisions related to their higher education.
Of course, excellent quality of education, a safe and welcoming multicultural environment and part-time working opportunities are some of the evidently prime reasons, however, the dominant motivation behind selecting and narrowing your choice is based on the post-study employment options. Choosing Canada, therefore becomes obvious due to the lucrative opportunity of staying back in the country after your studies and working on an open work
permit.
A PGWP (Post Graduate Work Permit) is a one-shot prospect allowing students to gain Canadian work experience by applying for an extension of their stay. To be eligible for a PGWP, you must be enrolled full-time in an appropriate program at a Designated Learning
Institution in Canada.
The period awarded for PGWP varies and is decided by the officer-in-charge based on factors like the course length, the institution itself and its feedback on your application. However, your program must have lasted at least 8 months and resulted in a post-secondary credential. Programs lasting two years or more may be qualified for a three-year work visa.
Because the PGWP is an open work permit, you are not required to be tied to a single employer, nor is a Labour Market Impact Assessment (LMIA) required making it a simpler and more convenient process for the international students turning labour force for Canada. Acquiring Canadian work experience ensures an easy entry into the job market and provides much-needed exposure to the Canadian work culture, and ethics and results in higher earnings for recently graduated students.
The most consequential advantage that comes from a PGWP is the use of it towards the Permanent Residency application of an individual. Having studied and then working in Canada helps secure a significant score under the Express Entry System helping in boosting one's profile to get an early Invitation To Apply.
While some might find studying and then working in Canada quite a lengthy process and maybe even financially taxing, however, if you look at the bigger picture, it yields assured positive results especially if one is looking at settling in Canada permanently.
For more information, reach out to Novus Immigration Services. Licensed as the Regulated Canadian Immigration Law and Consultant Firm by the Bar Council of British Columbia, Canada. Discover more about Canadian Experience Class, Express Entry, PNP, Permanent Residence, and the document checklist.
Team Novus Canada https://www.novusimmigration.com/