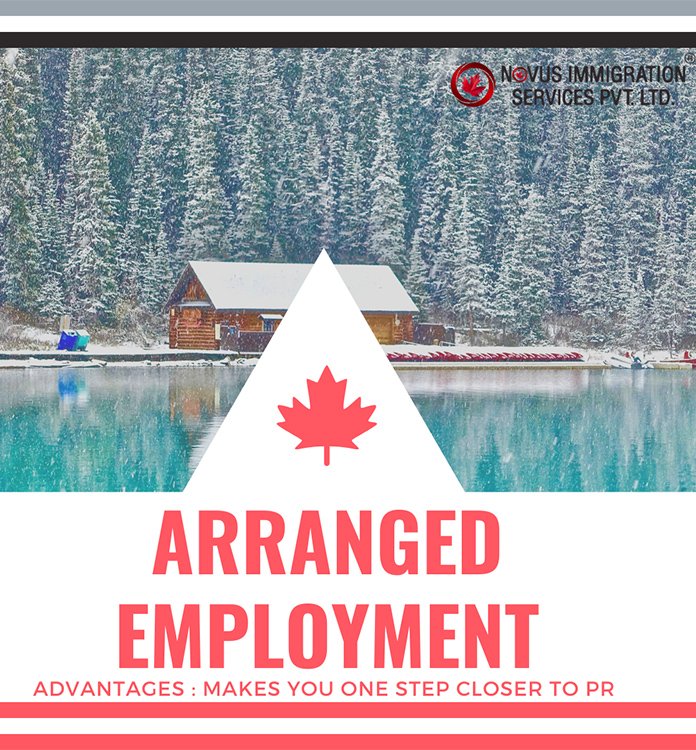 It is designed by RCIC to encourage employers to sponsor foreign skilled workers to work in Canada under Permanent Residency through Express Entry. While arranged employment is an employer-driven process and it is also an effective tool to enhance your Comprehensive Ranking System (CRS) in 2023. 
Arranged Employment Offer (AEO) can help secure 50 points for candidates in the Express Entry pool. However, it is a valid job offer issued by authentic Canadian employers to foreign skilled workers and trained experts from different areas and sectors looking for Canadian immigration under Federal Skilled Workers Program (FSWP).
Being one of the fast-track modes, candidates get an Invitation to Apply (ITA) through Express Entry and boost the score, to achieve the required benchmark CRS points. It also helps a candidate to secure a Canadian permanent residency at the earliest.
It is significant to take into account that Canadian employers have to apply for Labour Market Impact Assessment (LMIA) in the name of applicants (or foreign skilled workers/immigrants), who satisfy all eligibility criteria of Canadian immigration. Subsequently, employers further issue an AEO or valid job offer supported by positive LMIA to foreign skilled workers and trained professionals. 
Significant Features of AEO
For the authenticity of the Arranged Employment Offer, candidates must confirm the below-mentioned features in AEO (job offer letter). 
Job offer On Canadian employer letterhead

Certain details such as salary, number of working hours, nature of work, or occupation (NOC code) must be mentioned

Incentives, perks, duration of the contract (if applicable), number of leaves that can be availed by employees, benefits provided to the workers

Employment location
Benefits of AEO For Skilled Professionals
Opportunities to work in different industries and domains in Canada

Salary credited in Canadian dollars (CAD) 

Allowed to apply for spousal/Dependent Visa for family members

Opportunities to live in a secure and safe environment

Opportunities to access world-class education facilities and healthcare

Finally, apply for Permanent Residence (PR) status 
For more information reach out to Novus Immigration Services. Licensed as the Regulated Canadian Immigration Law and Consultant Firm by the Bar Council of British Columbia, Canada. Find out more about Canadian Experience Class, Express Entry, PNP, Permanent Residence, and the document checklist.
Team Novus Canada https://www.novusimmigration.com/