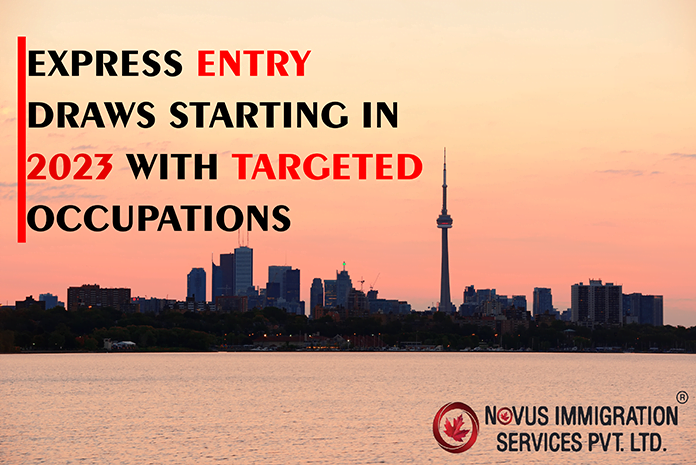 A bill which was released on the 23rd June 2022 (Bill C-19), has the authority to invite in-demand candidate with skills and qualifications rather than focusing on overall CRS score. The main aim of this bill is to select candidates who cater to Canada's economic goal. 
To avoid labour shortage due to the aging population and low birth rate, the country depends on immigrants to sustain its economy. Nevertheless, there is no endorsement on which qualification will receive Invitations to Apply (ITA). 
Immigration, Refugees and Citizenship Canada (IRCC), beginning 2023 first quarter may target health care and Tech professionals along with in-demand occupations through Express Entry and in consultation with Provincial Nominee Program (PNP) at an accelerated way. 
Furthermore, the new Training, Education, Experience and Responsibilities TEER system, the country will be better equipped at anticipating its labor market, examining the supply and demand for labor, occupations, and providing more skilled jobs to Canadians and Immigrants.
The targeted in-demand admissions will go up to 500,000 new permanent residents per year by 2025 which are categorized under registered nurses, web developers, electrical engineers, truck drivers, welders, veterinarians, licensed practical nurses, industrial electricians, pharmacists, and accountants. Thus, over 110,000 will be admitted through Express Entry programs.
On the other hand, language skills are another focus for immigration. Therefore, immigrants interested in migrating to Canada may need to commence training in English and French language as both are considered as Canada's official languages.
For more information reach out to Novus Immigration Services. Licensed as the
Regulated Canadian Immigration Law Firm by the Bar Council of British
Columbia. Find out more about Canadian Experience Class, Express Entry, PNP,
Permanent Residence, and the document checklist. Licensed as the Regulated
Canadian Immigration Consultant by the Bar Council of British
Columbia.
Team Novus Canada https://www.novusimmigration.com/