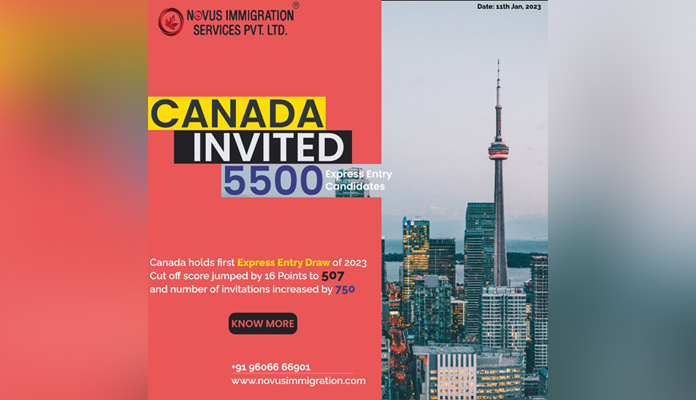 Canada invited 5,500 candidates in the 237 all-program Express Entry Draw 2023 with a CRS score of 507. The draws resumed on July 6, 2022, and were paused in December last year due to glitches in IT following the implementation of the new National Occupation Classification (NOC) 2021.
Apart from Express Entry, many Provincial Nomination Program (PNP) candidates suffered delays in Invitations to Apply (ITAs), and ineligible candidates received them due to system error. IRCC has agreed that they have rectified the IT issues and will resume functioning smoothly. 
Twenty-three draws were seen in 2022, and every draw saw an increase in invites through Express Entry. No draws took place after 23 November 2022, which saw an invite of 4,750 candidates with a CRS score of 491. The current draw saw an upsurge in invites by 750 applicants, which may increase further. 
The Express Entry draw occurs every two weeks, regularly on Wednesdays, with IRCC's discretion on draw dates. The Express Entry system includes the Federal Skilled Worker Program (FSWP), the Federal Skilled Trades Program (FSTP), and the Canadian Experience Class (CEC). These programs welcome huge numbers of economic immigrants every year. 
On the other hand, IRCC officially made the transition from NOC 2016 to NOC 2021. Moreover, the new Training, Education, Experience, and Responsibilities (TEER) system will have more clarity on improving the occupational demand for trained and skilled workers. 
For more information, reach out to Novus Immigration Services. Licensed as the
Regulated Canadian Immigration Law and Consultant Firm by the Bar Council of British
Columbia, Canada. Discover more about Canadian Experience Class, Express Entry,
PNP, Permanent Residence, and the document checklist.
Team Novus Canada https://www.novusimmigration.com/