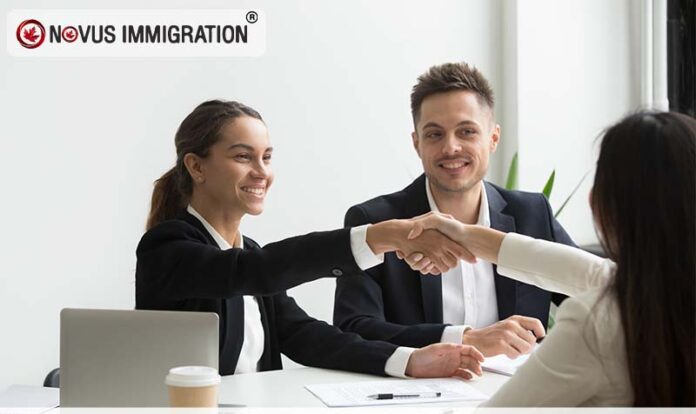 We have significant experience in assisting Canadian employers for recruiting foreign nationals from India and other countries. At the onset, what one needs to have clarity about is the fact that the chances of being picked up for a job because you have a deserving profile and relevant skilled experience is not adequate enough.
The process of employing a foreign national (anyone who is not a Canadian citizen or a permanent resident) requires a Canadian firm to undergo various government procedures such as applying and receiving a positive LMIA (LABOUR
MARKET IMPACT ASSESSMENT) from the Service Canada branch of ESDC (Employment and Social Development Canada). This is an affirmation and permission to the Canadian firm to further their recruitment activities of foreign nationals. In layman's term, it is not as simple as it sounds to hand out a job to an individual from India just because
the individual is well equipped and the Canadian employer genuinely needs the candidate. The employer firstly needs to give this opportunity to all the citizens and permanent residents of Canada. If he can prove that in spite of advertising and significant efforts given into interviewing, he/she has been unsuccessful in getting a satisfactory applicant, he/she could receive a positive LMIA.
From an Indian aspirant's perspective, he/she needs to understand this background of how sophisticated the hiring process is and thus the chances being comparatively slim in comparison to a country where employing candidates from elsewhere is easier and not stringently regulated. The main motive behind this approach is to ensure that the
natives, citizens and permanent residents of Canada will not be overlooked and the first opportunity is always given to them.
Nonetheless, we have helped a lot of our Canadian employers to apply and receive a positive LMIA. If your employer needs legal representation/assistance feel free to reach out to us. On the other hand, majority of the big IT firms in India also have subsidiary branches inside Canada. ICT (INTRA COMPANY TRANSFEREE) program is another program via which you can get a work permit to work in Canada for the same employer. For this to fructify, your employer should be willing to provide you an option of working for their Canadian base and few program eligibility criteria which have to be fulfilled.
If you do not have an employer who is willing to go through the tedious process of hiring you or your current company does not seem to have a Canadian branch, then you need to focus on the other options.
The smartest way though it sounds lengthy and time consuming is to transition into a permanent resident and simultaneously search for jobs. There are few job portals which categorically post jobs for foreign nationals. One needs to make sure that his profile is active and updated on all the major job platform portals of Canada. Another
prudent way of reaching out to hiring managers is vis LinkedIn or LinkedIn premium which would let you send a personal message to the VP, CEO or HR manager of the firms you feel you would be a good fit in.
You could also mail your CV's to the designated employers of Atlantic provinces and Rural Immigration pilot project. The details of these employers are available on the provincial websites. Each firm has their own niche and thrives on
quality human resource, if you are an aspirant you should spend some quality time on researching relevant employers in various provinces and reach out to them personally via email or drop them a formal message.
Please remember that Canada is handing out permanent residency to skilled workers because the immigrants bolster the economic growth and Canada has an ageing population. They have a requirement of labor force and the requirement varies in different provinces. Considering this, the federal government has given rights to the provincial governments to choose and nominate foreign nationals based on job codes which are termed as NOC- National Occupation Classification. These provinces invite and nominate aspirants belonging to various job domains as they have a demand in these occupations which is currently unfilled. Hence it is important to be active in the Provincial Nominee programs, the draws happen at irregular intervals throughout the year for each province.
Reach out to us for free and valuable information, looking forward to clear your queries.