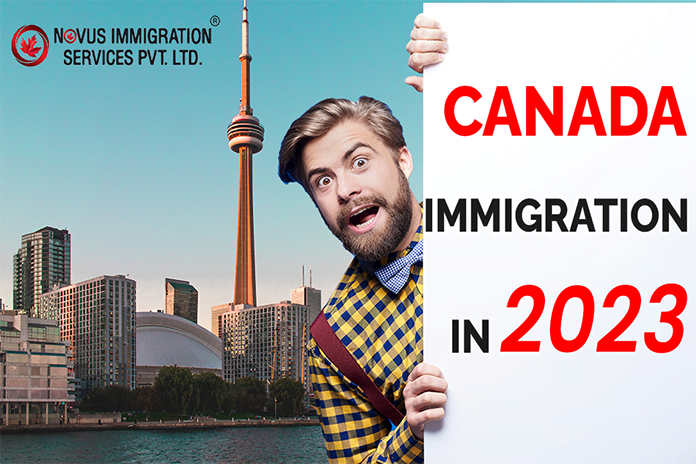 A Peek Into 2023
Immigrants will make up a large chunk of the Canadian population in the future from 2023 until 2030. However, with strong conviction IRCC thinks that they will manage the backlogs along with welcoming newcomers into the country. The Canadian government looks unwavering in its constant commitment to immigration and welcoming newcomers to Canada. 
The Express Entry and Provincial Nominee Program, Parents and Grandparents Program, Spousal Sponsorships, and Study Permit will attract a whopping 465,000 plus immigrants in 2023. PNPs and Express Entry will invite highly skilled workers in In-Demand occupations. 
Furthermore, Provincial Nomination Program will be the leading source in 2023 as the topmost single pathway addressing the labour market needs. Instead of targeting a high Comprehensive Ranking System (CRS) score, this pathway will target applicants based on specific occupational experience, educational background, and language ability.
The changes will actually increase the retention rates, especially among applicants in specific communities where they can find job opportunities with ease. After consulting the provinces IRCC will arrive at a decision to target specific immigrants to work out the new format. About 23 percent of the Canadian population are immigrants and it will keep growing till it reaches its economic goal.
Thus, policies that the Canadian government is pushing into place will create a system for taking a decision on who can immigrate into the country in the future. Allowing millions of skilled workers into the community with an improved economy, Canada will also see an increase in Gross Domestic Product (GDP).
For more information reach out to Novus Immigration Services. Licensed as the
Regulated Canadian Immigration Law and Consultant Firm by the Bar Council of British
Columbia, Canada. Find out more about Canadian Experience Class, Express Entry, PNP, Permanent Residence, and the document checklist.

Team Novus Canada https://www.novusimmigration.com/