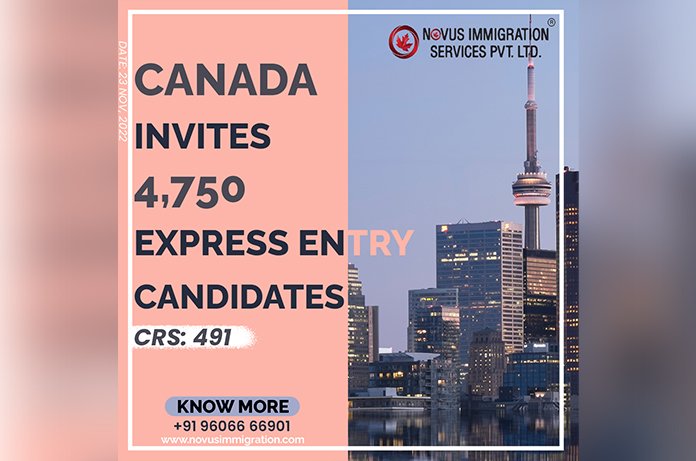 The Express Entry draw score (#236) was 491 on November 23, 2022, and IRCC issued 4750 invitations. However, it is believed that more skilled professionals will be invited in the future as Canada is dedicated to improving its economic goal.
India is the single major contributor to Canadian immigration and is the key partner in increasing the quality of immigration. IRCC continues to promote economic and social ties with India toward Canada's welfare. Asia is where the majority of people who immigrate to Canada as permanent residents and citizens.
Canada to invite 465,000 immigrants in 2023 as permanent residents through Express Entry. It is planning to target 485,000 candidates by 2024 and 500,000 by 2025 and these targets highlight the importance it places on economic immigration in the ongoing labour shortage. 
To rank, a candidate's profile, Express Entry practices a points-based system, the Comprehensive Ranking System (CRS). Approximately every 2 weeks CRS scores will be announced dynamically and it has been Canada's key driver for choosing Express Entry candidates and ITAs sent accordingly. 
In the future, Canada to conduct draws that allow immigrants and will focus on addressing specific areas of labour market needs and weaknesses. The immigration backlog in Canada has dropped to just over 2.4 million according to new data obtained from Immigration, Refugees and Citizenship Canada (IRCC).
For more information reach out to Novus Immigration Services. Licensed as the
Regulated Canadian Immigration Law Firm by the Bar Council of British
Columbia. Find out more about Canadian Experience Class, Express Entry, PNP,
Permanent Residence, and the document checklist. Licensed as the Regulated
Canadian Immigration Consultant by the Bar Council of British
Columbia.
Team Novus Canada https://www.novusimmigration.com/