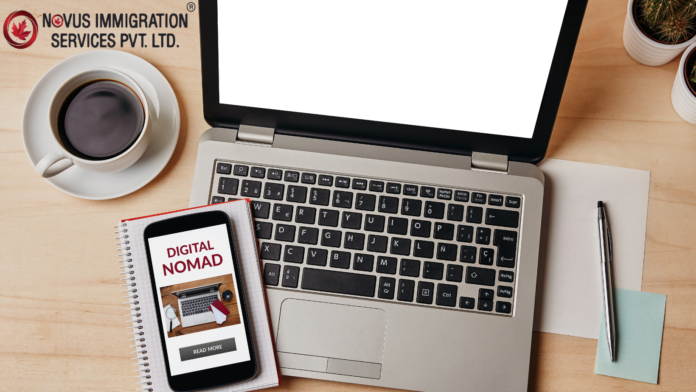 In recognition of its burgeoning role in the global tech talent landscape, Canada has introduced the Digital Nomad Visa, catering to individuals with the flexibility to work remotely from any corner of the world. Operating under the visitor visa category, this program offers a myriad of advantages. Digital nomads under this visa can revel in the Canadian experience for up to six months. The unique feature allows them to work remotely for their non-Canadian employer, explore job opportunities, and even attend interviews in person within the country. It's noteworthy that, initially, engagement with local employers is restricted until a transition to a work permit occurs.
Benefits of the Digital Nomad Visa:
This visa boasts a range of benefits, including no age limit, no language proficiency test (IELTS), no points system (CRS), and no Educational Credential Assessment (ECA) requirements. What sets it apart is the rapid processing time of 28 days, sparing applicants from lengthy waits or draws. Beyond work, it offers a unique chance to immerse oneself in the Canadian lifestyle, meet potential employers face-to-face, and enjoy the opportunity to earn in Canadian dollars.
Application Process and Documentation:
Applying for the Digital Nomad Visa involves a straightforward process. Eligibility checks precede the compilation of necessary documents such as a 6-month bank statement, an offer letter, payslips, an updated resume, work experience letters, and proofs of accommodation. Following the application, a quick decision is made within 28 days, paving the way for successful candidates to embark on their Canadian journey. The costs associated with the Digital Nomad Visa include a CAD 100 visa application fee and an additional CAD 85 for biometrics.
Upon securing the Digital Nomad Visa, individuals can explore further opportunities, including transitioning to a Canadian Work Permit, increasing the likelihood of obtaining a Permanent Residency (PR), or opting for a visa renewal in case the former options prove unfeasible.
Understand and evaluate your profile and chances through authorized ICCRC-registered immigration consultants. For more information, reach out to Novus Immigration Services. Licensed as the Regulated Canadian Immigration Law and Consultant Firm by the Bar Council of British Columbia, Canada. Discover more about Canadian Experience Class, Express Entry, PNP, Permanent Residence, and the document checklist.