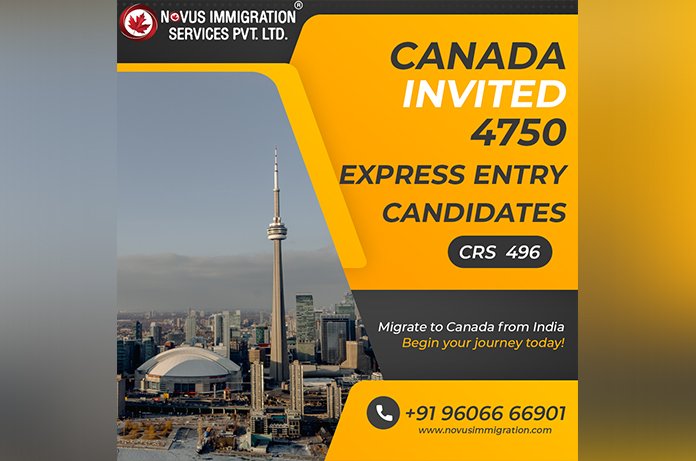 The CRS cut-off score for the latest Express Entry draw was 496, in the Express Entry round 234, 4 points lesser than the last draw. Express Entry Draw saw a total of 4,750 invitations, 500 more Invitation to Apply (ITAs) than the last draw.
The all-program draw and the CRS score are expected to go down in the upcoming months. The next draw is expected to be anticipated in 15 days and more people are expected to get an Invite in the upcoming days. The pool has been cleared of the Provincial Nominee Program which was from the range of 500 to 600. Finally, we have entered the green segregation for Express Entry Pool. 
If you are not confident that your CRS score is high enough then go to the IRCC website and look for the influential factors concerning your age. Then improve your language skills from CLB 6 to CLB 9 but if you add French proficiency it could add a few more points.
On the other hand, your work experience can also increase the points in your skilled occupation. The same rule applies if you have Canadian work experience. Getting an educational experience in Canada increases the score and the best way to get experience is from Post-Graduation Work Permit.
If you have a sibling in Canada you can raise your score, if they are a permanent resident or a citizen. Some Provinces search for candidates from Express Entry looking for skilled immigrants from the pool. 
There are several ways to improve your Comprehensive Ranking Score for Canada with Language, Work, Study, Spouse, and Provincial Nominee Program.
For more information reach out to Novus Immigration Services. Licensed as the Regulated Canadian Immigration Law Firm by the Bar Council of British Columbia. Find out more about Canadian Experience Class, Express Entry, PNP, Permanent Residence, and the document checklist. Licensed as the Regulated Canadian Immigration Consultant by the Bar Council of British Columbia.
You are at the right place and congratulations!
Team Novus Canada https://www.novusimmigration.com/