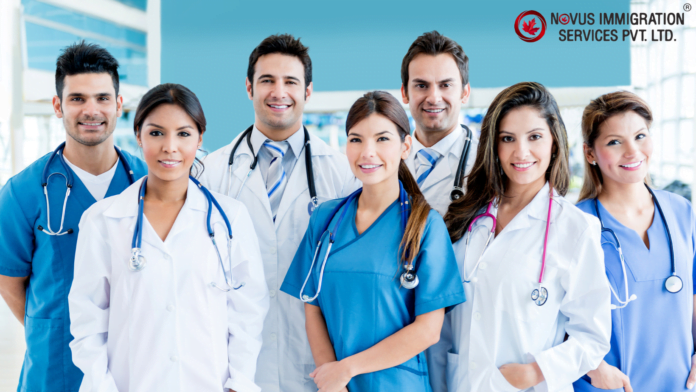 The Canadian government recently added a new route to selecting skilled migrants through Category-based draws from the Express Entry pool. The Express Entry operates exclusively based on the Comprehensive Ranking System (CRS) scores wherein the applicants securing the cut-off score or above are given Invitations To Apply (ITA). With the introduction of the new pathway, it is evident that targeted draws will be the focus starting this summer.
The demand for a separate set of draws has arisen from the growing need in Canada for proficient people in the various categories outlined by the IRCC (Immigration, Refugees and Citizenship Canada). The first category, Healthcare, is one of Canada's most in-demand occupations; therefore, the focus has been drawn to this sector.
Apart from central draws, each province in Canada also has exclusive healthcare needs, therefore they frequently have Provincial Nominee Programs (PNPs) that target healthcare workers. These programs can yield more CRS points or a direct nomination, increasing the likelihood of being invited to apply for permanent residency.
Candidates will not only have to meet the requirements under any one program of the Express Entry but also have at least 6 months of continuous work experience in one of the mentioned occupations in the last three years and any other additional requirements.
Some of the healthcare occupations that will be targeted are:
Dentists
General practitioners and family physicians
Nurse aids
Optometrists
Physiotherapists
Veterinarians
Dieticians and nutritionists
Physiotherapists
Psychologists
Additionally, Canada has already begun the project in full force by inviting 500 healthcare professionals under the STEM category-based selection draws. Candidates holding a minimum Comprehensive Ranking System (CRS) score of 476. This is the first ever draw since the announcement for the same on May 31st and will continue throughout the year to meet the growing demand for STEM talent and fill vital roles that will contribute to the country's economic growth and technical improvement.
The Express Entry system provides a faster method for healthcare professionals with relevant experience to seek permanent residency in Canada. Healthcare workers can develop a rewarding career and enjoy the high standard of living given by Canada.
Understand and evaluate your profile and chances through authorised ICCRC-registered immigration consultants. For more information, reach out to Novus Immigration Services. Licensed as the Regulated Canadian Immigration Law and Consultant Firm by the Bar Council of British Columbia, Canada. Discover more about Canadian Experience Class, Express Entry, PNP, Permanent Residence, and the document checklist.
Team Novus Canada https://www.novusimmigration.com/